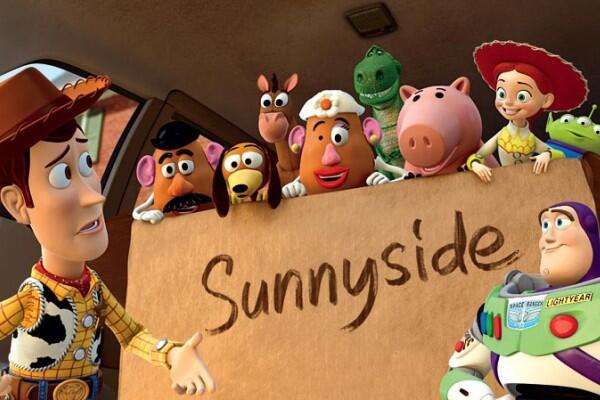 Scottish people, blue people and er, toy people all feature in this week's top 5 films to watch on TV this week. 
Braveheart (1995)
Wed Apr 23, Film4; 21:00-00:25
Hollywood goes all 13th Century, as Mel Gibson both stars in and directs this ultra-bloody and hugely patriotic medieval epic. About as subtle as it is historically accurate, Braveheart tells the incredible story of William Wallace (Gibson) and his rise from lowly peasant to leader of the Scottish rebellion against the English oppressors of King Edward I.
After his wife is brutally murdered at the hands of English soldiers, Wallace and his loyal band of warriors fight for the liberation, or should I say, "FREEDOM!" of Scotland. Kilts, swords, blood and guts all feature heavily, as well as some superb acting from Aussie-turned-Scottish heartthrob Mel Gibson.
Saving Private Ryan (1998)
Armed with one of the best opening scenes to any war film, Steven Spielberg's Oscar-winning WWII drama is absolutely unmissable.
Storming the beaches of Normandy as part of the Allied invasion on D-Day, Captain Miller (Tom Hanks) and his team of Rangers are given a testing mission to find and release young Pvt. James Ryan (Matt Damon) from duty after his three brothers are killed in action.
Overwhelmingly powerful and highly realistic, with Hanks and Spielberg on top form, Saving Private Ryan captures both the horror of war and its heroism. Truly spectacular.
Toy Story 3 (2010)
Sat Apr 26, BBC3; 20:15-21:55
"C'mon. Let's go see how much we're going for on eBay."
Woody (Tom Hanks), Buzz (Tim Allen) and the rest of the gang are back in Disney Pixar's fanTOYstic sequel (sorry). Andy is now seventeen and heading for college. Mistaking them for trash, Andy's mum delivers the toys to a wonderful day-care centre, 'Sunnyside', where toys are played with every day. Welcomed by Lots-o'-Huggin' Bear (Ned Beatty), the gang are smitten with their new home with the exception of Woody, who believes their place is with Andy.
But after Buzz is captured and reset to 'default mode', the gang learn of Sunnyside's dark secrets. Hilarious and delightfully touching, Toy Story 3 brings Andy's journey with his beloved toys to a perfect end.
Avatar (2009)
Sat Apr 26, Channel 4; 20:15-23:25
Ignoring the fact that it's a futuristic Pocahontas remake, James Cameron's ground-breaking science fiction spectacle is a dazzling display of astounding visuals, high-octane action and innovative CGI animation.
By 2154, Earth's resources are caput. Taking the place of his deceased twin brother, ex-marine and paraplegic Jake Sully (Sam Worthington) is shipped to Pandora; an exotic deep space moon with valuable minerals inhabited by big yet graceful blue-skinned warriors called the Na'vi.
Using Avatars, genetically-bred human/Na'vi hybrids to learn and understand their culture, Sully becomes involved with the inhabitants and falls in love with Na'vi warrior Neytiri (Zoe Saldana). But with the armies of Earth planning to turf out the blue natives, Sully must choose which side to fight for. Popcorn, popcorn, popcorn!
Sunshine (2007)
on Apr 28, Channel 4; 00:10-02:00
Just when you thought it was safe to travel to the centre of the solar system, deliver a nuclear payload to the dying sun in order to save it, and fly all the way back to Earth…
From Danny Boyle, the director of Trainspotting and 28 Days Later, this spellbinding blend of intelligent storytelling and sweeping visuals results in a mind-bogglingly intense sci-fi/horror thriller. In 2050, humankind's hopes for survival hinge on the crew of the Icarus II spacecraft. Nuclear physicist Capa (Cillian Murphy), engineer Mace (Chris Evans) and other scientists and astronauts begin their mission to restart the sun. But after picking up the distress signal of Icarus I, the previous spacecraft which failed to complete the same mission, the crew learn that the sun isn't the only thing that needs saving.
Well-paced with a dramatic, haunting soundtrack, Sunshine is science fiction gold.
Will you be checking out these movies? 
You can also read my weekly feature here - http://www.wow247.co.uk/blog/2014/04/22/great-films-to-watch-on-tv-this-week-41280/