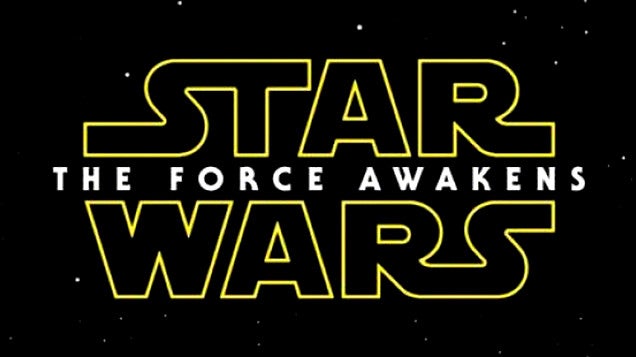 The force is strong with the first teaser for J.J Abrams' Star Wars: Episode VII – The Force Awakens. 
If you haven't seen it already then stop what you're doing right now. Scroll down, click play and go completely fucking nuts.
Also, where the hell have you been since Friday when the trailer swarmed the internet like a pack of rampaging Ewoks at a Stormtrooper team building weekend?
88 seconds of pure fanboy bliss, these are the first images from next December's now Disney powered continuation of George Lucas' epic space saga. And boy they don't disappoint.
The trailer introduces four new characters, and actors, to the galaxy far far away. Although actual plot details are at this point still as secret as C-3PO's sexuality, we do know that John Boyega's (Attack the Block) character, pictured at the beginning of the trailer sweating like a Jedi in a whorehouse, will play a major role.
As will relative newcomer Daisy Ridley's heroine, shot in the trailer riding a rather hefty speeder.
Golden Globe nominee and man of the moment Oscar Isaac (Inside Llewyn Davis and soon to be playing the title role in X-Men: Apocalypse) is also featured doing what every Star Wars fan has ever dreamed of. No, not taking a blow torch to Jar Jar Binks, but piloting a god damn X-Wing!
Then there's that menacing voiceover, recently revealed to be the work of Andy Serkis. You know, Andy Serkis, that guy from The Lord of the Rings, King Kong, Planet of the Apes and now bloody Star Wars. Man's living the dream.
And what about that lightsaber?! And who's wielding it?! And how good does the Falcon look?!
If you've watched the trailer countless times already like myself, you will have no doubt noticed what, or more specifically who, is missing.
Our heroes from the original trilogy of course! Although we didn't get a glimpse of them in the trailer, they're all back for another round of space hoo-ha. Recent rumours suggest that Mark Hamill's Luke Skywalker will play a major role in proceedings.
Carrie Fisher is confirmed but there's no word on Leia's story yet, though I do hope she brings out those snail curls.
Of course everybody's favourite stuck up, half-witted, scruffy lookin' nerf herding smuggler Han Solo, played by Harrison Ford, is back.
And who's that in the back there? Oh it's Chewie! The walking wookie carpet, played by 7″3 Peter Mayhew, is of course, returning.
Also making a comeback is Kenny Baker as Lord of the Droids R2-D2, still telling Han the odds will be Anthony Daniels as C-3PO and, last but not least, legendary composer John Williams will be turning out a brand new score! JOY.
The rest of the cast is also very promising. Joining the aforementioned batch of Star Wars newbies will be Adam Driver, who also featured in Inside Llewyn Davis, the About Time and Frank star Domhnall Gleeson, 12 Years a Slave newcomer Lupita Nyong'o, Game of Thrones' warrior woman Gwendoline Christie and legend of cinema Max von Sydow.
Whatever happens between now and December 2015, the next chapter in the Star Wars saga is done and dusted and in post-production. We can expect more trailers, more images and more story info than a Tusken Raider can shake his stick at in the coming months. All we have to do is wait.
But, in the words of Yoda – "Bloody wait I can't."